Growing Your Brand With Better Boxes
Committing to custom packaging for your products will instantly set your business apart from the rest and show that you are professional and care about your customers. We can create custom packaging that is tailored to your brand and fits the specific size and dimensions of your product. We specialize in orders from just a single prototype box to orders of 10k. Take the next step with custom packaging, your customers will notice.
Download Packaging Brochure PDF
We offer a range of packaging box options, here are our most popular options:
Window Product Box

A window product box is a great way to display your product within its packaging. These boxes can be stacked for display and also stored very easily.

Hanging Product Box

Our hanging boxes come in a range of sizes that allow room for all types of products. These boxes work well lined up on a display rack.

Hanging Product Box with Window

You won't need to rely on photography with these boxes. They give the customer an actual look at the product, while its hanging on the shelf.

Window Box with Sliding Sleeve

This box offers the same product visibility as the standard window box, but includes a protective sleeve. The sleeve also offers more room for product messaging and photography.

Branded Shipping Box

Take your products to the next level by branding their actual shipping container. These boxes come in numerous sizes and are equally durable and beautiful.

Flap Cover Box

Flap cover boxes offer a unique presentation for your product. They are easy to open or can be used as a display box for a group of small individually packages items.

Carton Retail Box

This box serves two purposes. It offers a safe shipping option for your product and also works as a container to display your products within a retail environment.

Counter Top Display Box

This box is guaranteed to get your product noticed with a space for point-of-purchase signage in direct correlation with the product itself. These boxes are best used in prominent locations.

Carton Shipping Box

Carton shipping boxes are crucial in delivering multiple products safely to the consumer. Customizing these with your logo or information adds credibility to your company.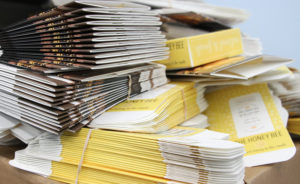 Gotta See It First? We've Got Samples For You.
We have dozens of different textures, materials, colors, and box templates that give you nearly an endless supply of different style combinations. Which one is right for your products or business? Request a sample and find out..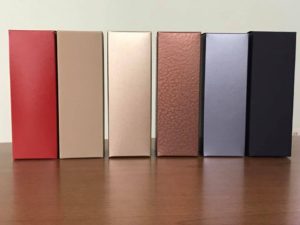 Make Your Package Stand Out With Our Finishing Options
What project would be complete without all the bells and whistles. Our finishing options can create a custom look to our standard boxes or they can enhance the look of your unique design. Our finishing department offers, UV coating, foil stamping, and embossing to name a few. Learn more about our finishing options.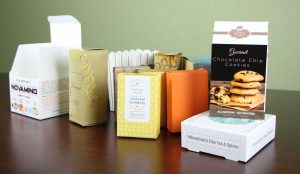 Our Revolutionary 3D Proofing Process.
It's important that you know what the end product will look like, so we proudly offer our clients 3D proofs that accurately display all sides of our custom packaging. Our talented team of graphic designers will take your artwork or create work a custom design and show you what it will look like directly on your chosen box. Want a custom box style? We can show you what the box will look like before you even start the design.