What project would be complete without all the bells and whistles. Our most popular finishing options:
Foiling
A finishing technique with dramatic results. We offer a range of foil options from flat color, to ultra-shiny metallics. Our foiling process can accommodate both flat stamping and foil embossing.
Embossing
Give your project a true texture by incorporating an embossment. We can emboss areas up to 11×17. We offer a range of embossing options including 2 level embossments.
Debossing
If you want the opposite look to an embossment we also provide debossing options. Keep in mind you will automatically get a debossing effect on the reverse side of your embossed pages.
UV Coating
If you are looking for a super glossy surface, we can provide UV coating. This process is basically a liquid varnish that we coat the printed page with. It protects artwork from scratches. Spot UV services coming soon.
Folding
If your project needs to fold we have you covered. From pocket folders to packaging, we have a solution for even the most complex designs. We offer scoring services to clients who want to fold their own projects on demand.
Die Cutting
Need a unique shape? Want to punch a hole through your artwork? We can handle those requests too. We offer die cut services up to 11×17.
Bindery
What booklet would be complete without stitching? What pocket folder wouldn't be complete without glued pockets? We provide full bindery services for projects big and small.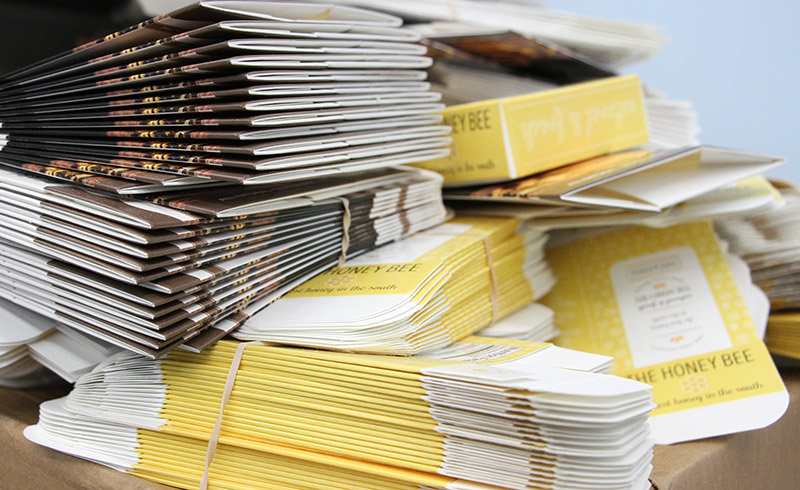 Gotta See It First? We've Got Samples For You.
We have dozens of different textures, materials, colors, and finishing samples that give you nearly an endless supply of different style combinations. Which one is right for your products or business? Request a sample and find out.